On this day, we remember those who lost their lives in an unprovoked attack.
May God Bless the Heroes and Heroines who were killed and injured in the defense of the United States of America.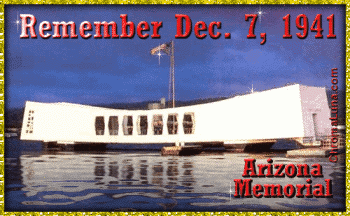 As a nation, we may...we must, strive to forgive...but we will not forget.
We pray this day for peace in the world...for peace among nations...for peace in these days.
We do so in a spirit of gratitude and remembrance for those who suffered and perished protecting us all.
May they ever rest in the arms of their Father in Heaven, surrounded by those they love and by those who love them.
AMEN
~~~~~
God Bless You & God Bless America
Rev. Barbara Sexton "The Biblical Biochemist-Where Science Meets the Cross"
www.DearOnesHealingMinistry.blogspot.com
'USARevBarb'
all animated dividers courtesy www.free-animatons.co.uk